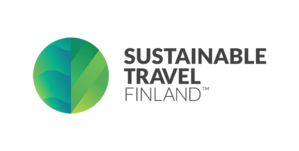 Environmental responsibility
Vasatokka is located in Inari, Finnish Lapland, where wilderness areas, clear waters, and changing seasons make our northern environment remarkable. Our goal is to keep northern nature vital and clean for future generations and to develop Vasatokka by highlighting the special features of northern nature and the value of the region's history and culture.
Financial sustainability and social responsibility
our effort is to improve sustainable development in Vasatokka and in our society
We aim for the values ​​of sustainable development to cross our operations, from educational work to procurement and maintenance of operating environments, as well as the operating methods of our staff and visitors.
We are committed to making our operations more environmentally friendly based on the Green-Key criteria and setting new environmental goals every year.
We are trying to reduce our environmental footprint, support our customers in making sustainable choices, highlight the actions of sustainable choices, and invest in environmental education content as part of our programs.
We are committed to the principles of equality and non-discrimination, which is reflected in the treatment of employees, trainees, volunteers, and visitors alike.
As a youth center, we are an organization against all forms of discrimination, bullying, and harassment. For us, announcing ourselves as a non-discriminatory area means resisting discrimination, tackling it, and recognizing the equality of all people.
We want to welcome all people, regardless of gender, age, ethnic background, religion or belief, opinion, health status, disability, or sexual orientation.
Socio-cultural sustainability
In Vasatokka, we participate in the planning and development of regional sustainable tourism through our cooperation networks and events for entrepreneurs in the region.
We train our staff annually in environmental and responsibility issues related to their own work.
We are committed to promoting local culture by working with communities and businesses in the area, offering local business services in our programs, and favoring locally produced meat, fish, and berry products, among other things.
We offer young people opportunities to make international contacts both in Finland and abroad.
Our facilities are partly completely accessible or accessible with assistance.
Our hearing accessibility has increased with the installation of the induction loop in 2021 in the reception room, dining room, and meeting room.
Environmental sustainability
The main building in Vasatokka is heated by geothermal energy and the electricity we use is produced from renewable energy sources.
The goals of the Finnish Youth Centers include carbon neutrality by 2030, which will be increasingly reflected in our operating methods, such as energy-efficient renovations and an increase in the share of climate-friendly food in our kitchens.
If reasonable, we rather repair old than buy new. We use recycled products in our programs to the extent appropriate – for example, the Escape room Riutula is made up almost entirely of recycled goods!
We use eco-labeled products for cleaning.
Staff and customers have been instructed to recycle.
Local food, vegetarian options as well as organic and fair-trade products are part of our restaurant's offering.
Minimizing food waste has already been taken into account in the cooking phase, and therefore we produce very little waste. The biowaste generated is stored in our composter and turned into soil, which is utilized for our plantations.
We are part of the Finnish network of nature and environmental schools, which is reflected both in nature school activities and in the content of our programs.
As a youth center, we aim to promote the environmental awareness of the younger generation, and with our example, we want to encourage others to act ecologically.
If you have any questions or thoughts about our environmental responsibility, please send us an e-mail to vasatokka@inari.fi