Summer activities
Canoeing trip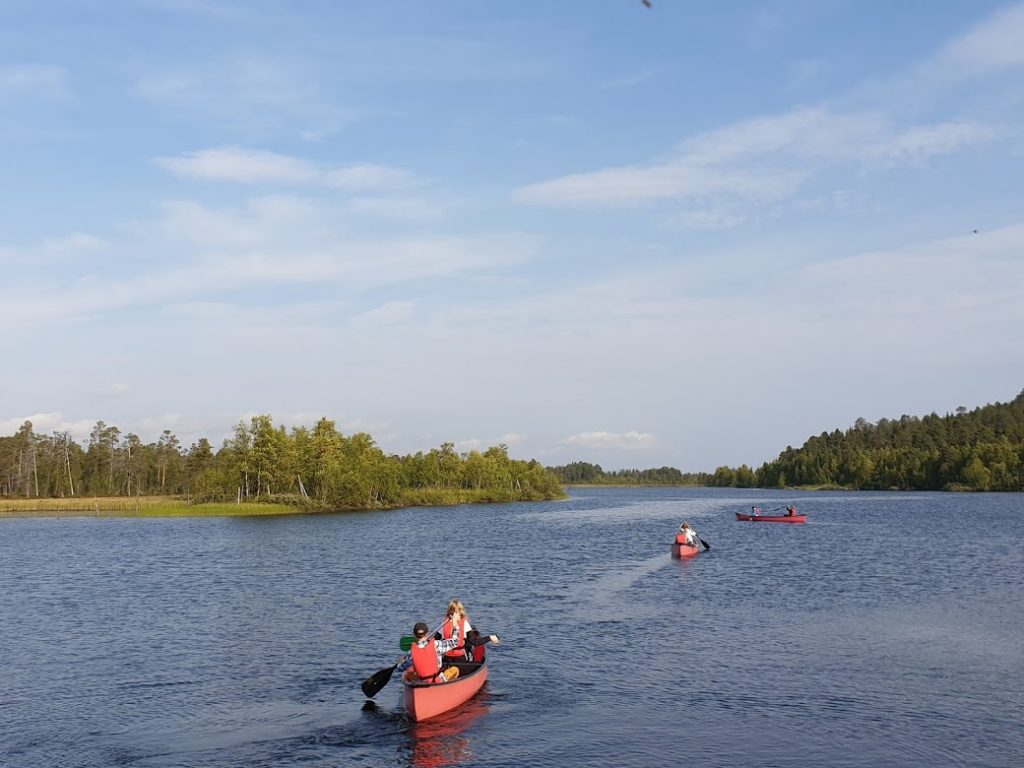 Guided trip to river Kettujoki or Lake Muddus
Duration 3h
Includes guide services, equipment, and insurance
Minimum 2 people, max 10 people
Price 40€/person
Suitable for adults and children from 7 years old.
Wilderness skills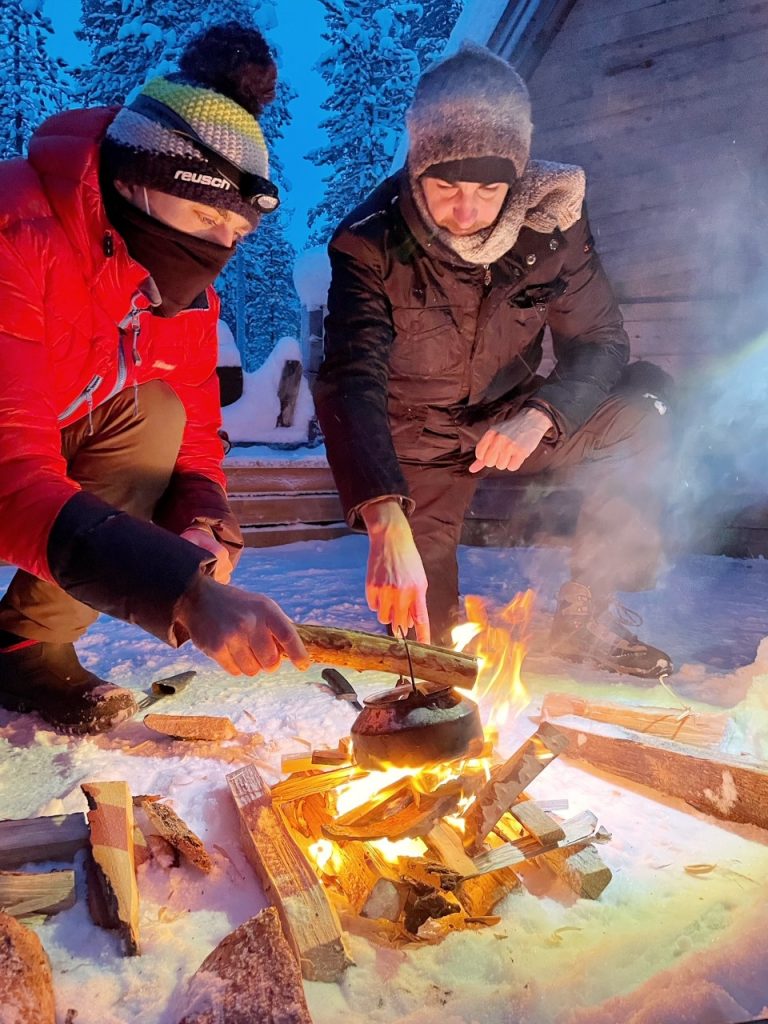 Duration 4-5h
Building a laavu, fire making, preparing lunch by an open fire, learning basic wilderness skills
Includes equipment, lunch by an open fire, guide services
89€ / person, minimum 4 people
Bookings in advance at least 1 week before
Archery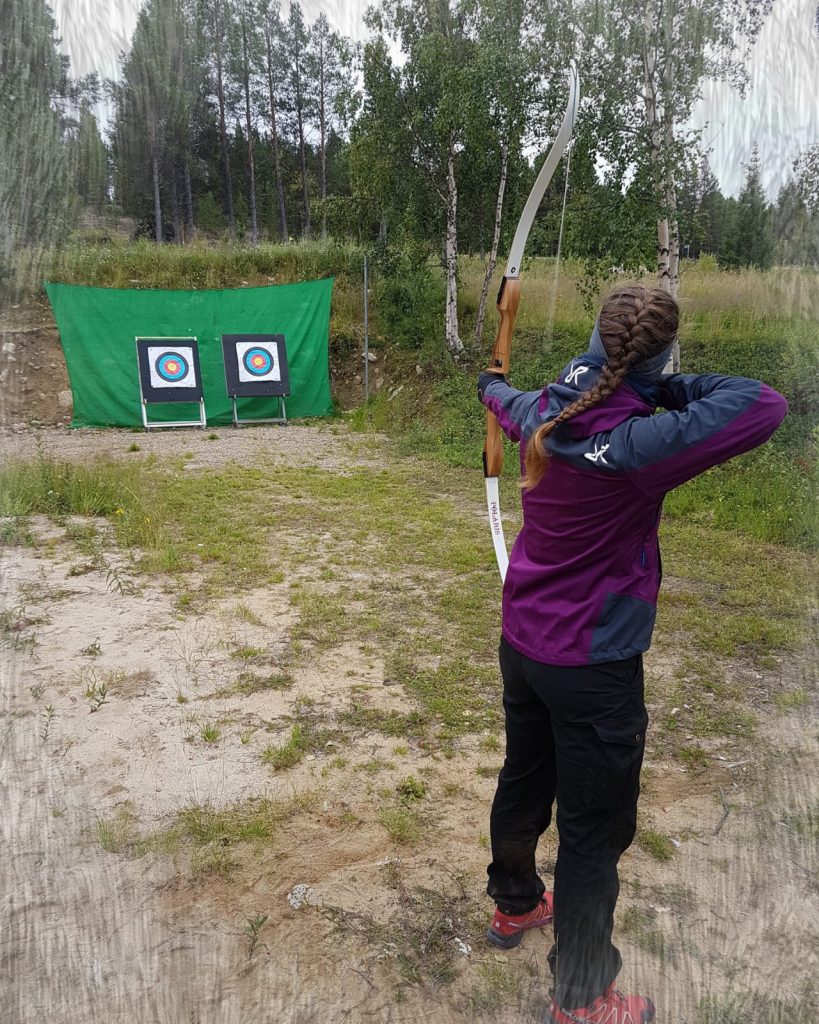 Price 15€/person for adults and children from 7 to 18 years 12€/person
Includes equipment and guide services
minimum 2 people, max 10 people
Hiking
Trails departing from Vasatokka:
Route of the Fox 1 km, activity trail for children
Riutula – Otsamo Trail, 10 km. This trail begins from the Youth Centre Vasatokka in Riutula, and continues via the lakes Saarijärvi and Konesjärvi to Otsamo. You can return on the same trail, which makes a 20-km-long trip altogether.
Vasatokka – Ahvenjärvi trail, 5km. This trail goes middle of the forest and in a way is laavu (teepee) and fireplace.
And from Inari village for example:
Pielpajärvi Wilderness Church Trail 5 km, begins 3 km from the Northern Lapland Nature Centre, from the parking area on Sarviniementie road. The trail goes into a handsome old-growth forest, passing by forest lakes. At the end of the trail, you will reach a natural meadow, on the edge of which there is the well-preserved Pielpajärvi Wilderness Church. The church was built in 1752-1760, and it was in use until the end of the 1800s, until which time it was the central place of Inari area. Returning on the same trail makes a 10-km-long trip altogether.
Oi Juutua!Nature Trail, 7,5Km. Along this trail, you will find stories about people and events of Juutua, and about fishing. The trail starts by the bridge in the village of Inari, follows the southern bank of the river upstream to Haapaniemi, and then returns to the village.
Multiple other trails starting from Inari (outdoors.fi)
Fishing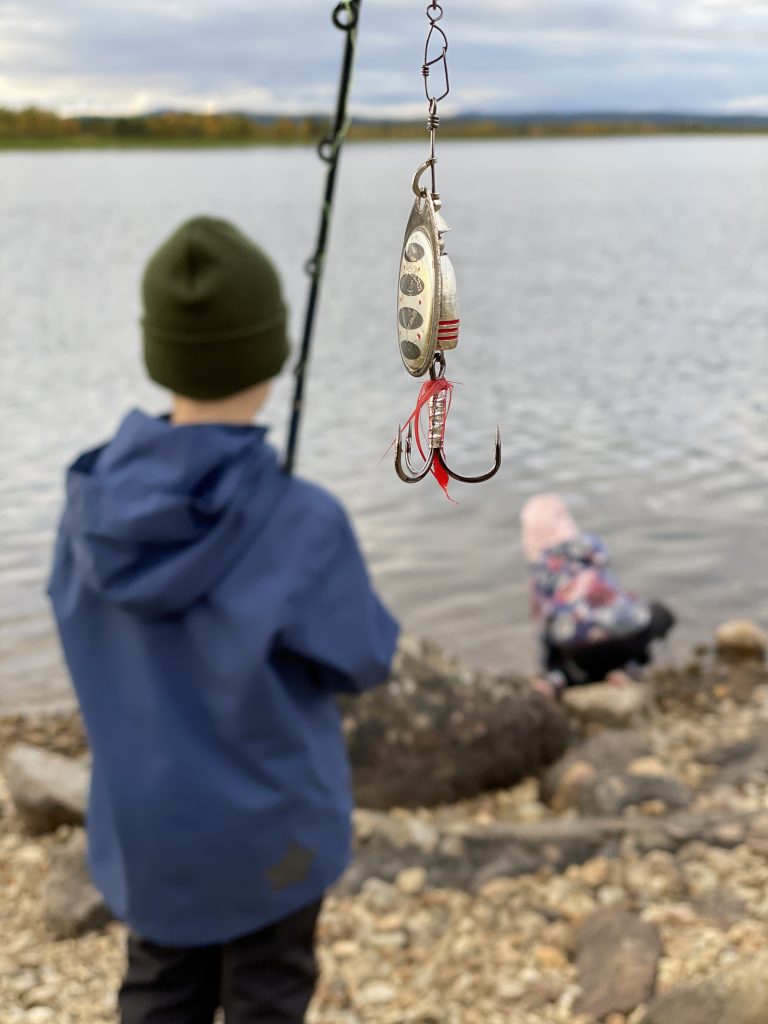 As the country with the most lakes in the whole world, Finland offers diverse opportunities for catching various species of fish. It is easy to start fishing. Angling with a hook and line and ice-fishing are exempt from licenses under public rights of access. In addition, lure fishing with one rod is free of charge for people aged under 18 or over 64. Other types of fishing always require fishing licenses and people aged 18 to 64 must also pay the state fishing management fee. (more Ministry of Agriculture And Forestry)
Ask guided fishing experiences
Rafting
Shoot the fast-running rapids of river Juutua in a rubber dinghy. Starting place is the Hotel Kultahovi in Inari village, where you will get all the equipment necessary. Transfer by car to the starting point for white water rafting. You also will check the rapids of Jäniskoski during the trip. Transfer back to Hotel Kultahovi. (www.saariselka.fi/luontolomat)
Gold Panning
A guided trip to the gold lands of Lemmenjoki. The area is famous for its history of gold prospecting and the marvelous nature of the Lemmenjoki National Park. We travel by riverboat along the Lemmenjoki river until we reach the gold claim where the action starts. You will learn the secrets of gold panning and if you a lucky you might find some gold nuggets! Beware of gold fever! (more www.valkeaporo.fi)
It is possible to buy a packed lunch from Vasatokka.
Golden Glitter of Lemmenjoki
Spend a day as a guest with Paltto sámi family
By riverboat, we travel about 22 km deep into the Nationalpark alongside the beautiful river Lemmenjoki to reach the historic gold sites. It's only a 600 m walk from the river bank to the gold claim where our host will show us the secrets of gold panning and everybody can try his or her skills in gold mining. While sitting around the fire, you'll have an opportunity to hear traditional sámi yoik and stories about reindeer herding. Finally, when going back to Lemmenjoki, you will meet reindeers at old sámi surroundings. (More information at www. lemmenjoki.org)
Cruises in Lake Inari
Experience the unique atmosphere of Lake Inari and views of Island Ukko, an ancient Sámi sacrificial island. The Cruise starts from Inari harbor. Out of respect to Sámi people, landing is not possible. From Island Ukko we will cruise close to an old cemetery island. From the boat, we can take photos and see some wooden crosses, that are still standing there. We will return to Inari on the old post boat waterway. (www.saariselka.fi/lakesnow)
SAUNA
Private sauna
8€ / person / one hour, minimum fee 20€
Towels available for 2 €
WINTER ACTIVITIES
SNOWSHOEING TRIP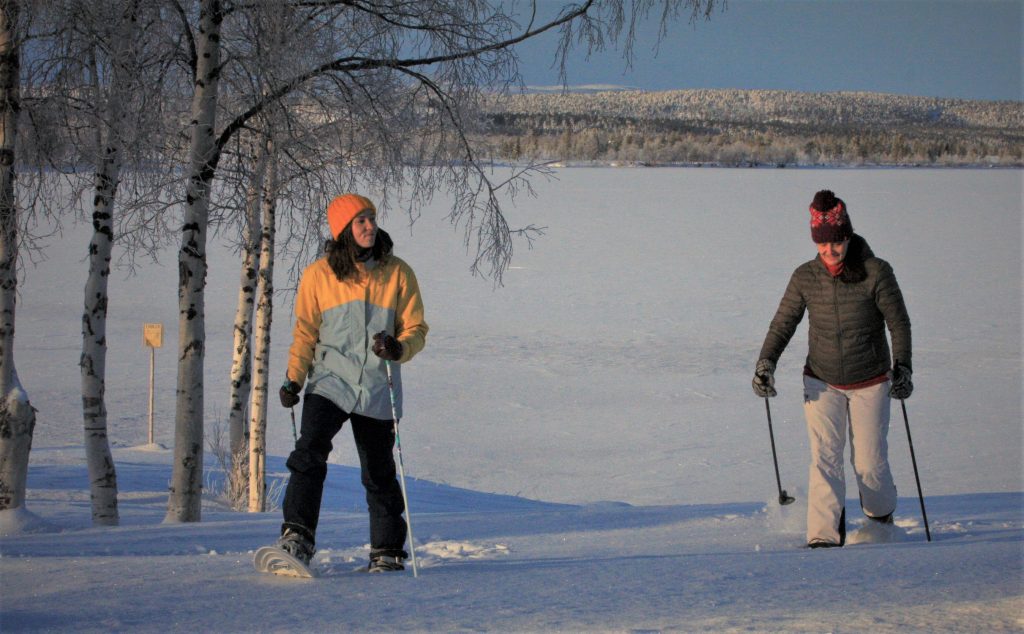 Guided snowshoeing trip
Hot drinks
Total duration 2h
Incl. equipment, guide services, drinks, and insurance
Price 55€/person
When using a sliding snowshoes price is 65€/person
Minimum 2 people
ICE FISHING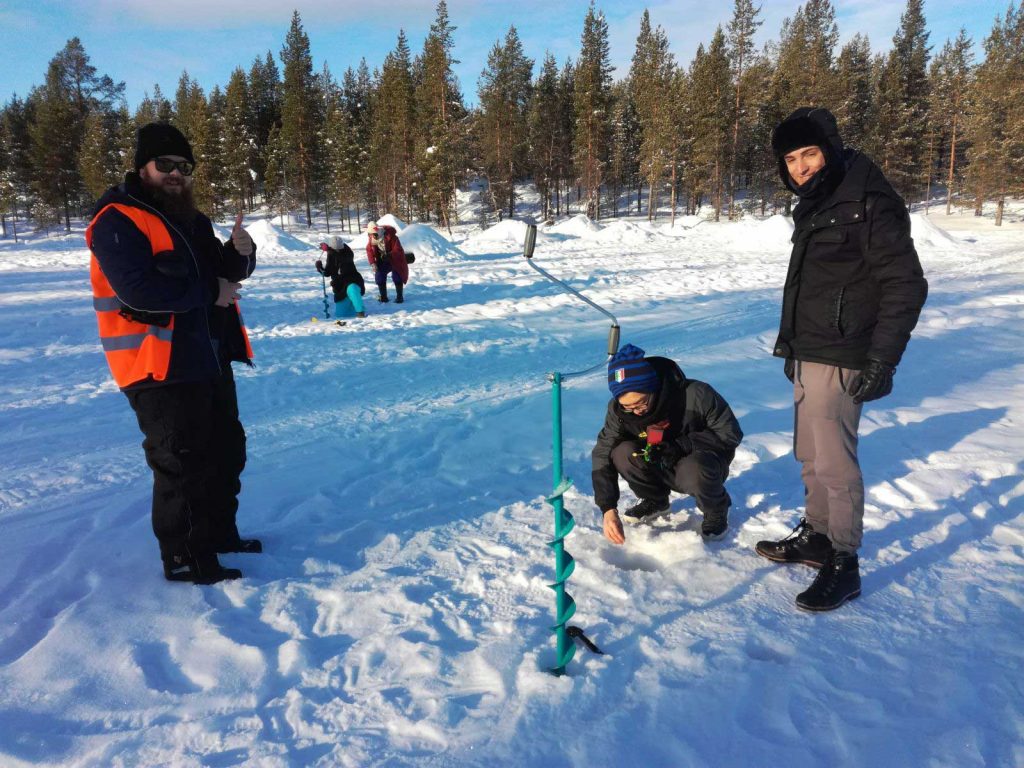 Duration 1-2h
Includes fishing equipment, hot drink, guide services
30€ / person
Minimum 2 people
CROSS-COUNTRY SKIING COURSE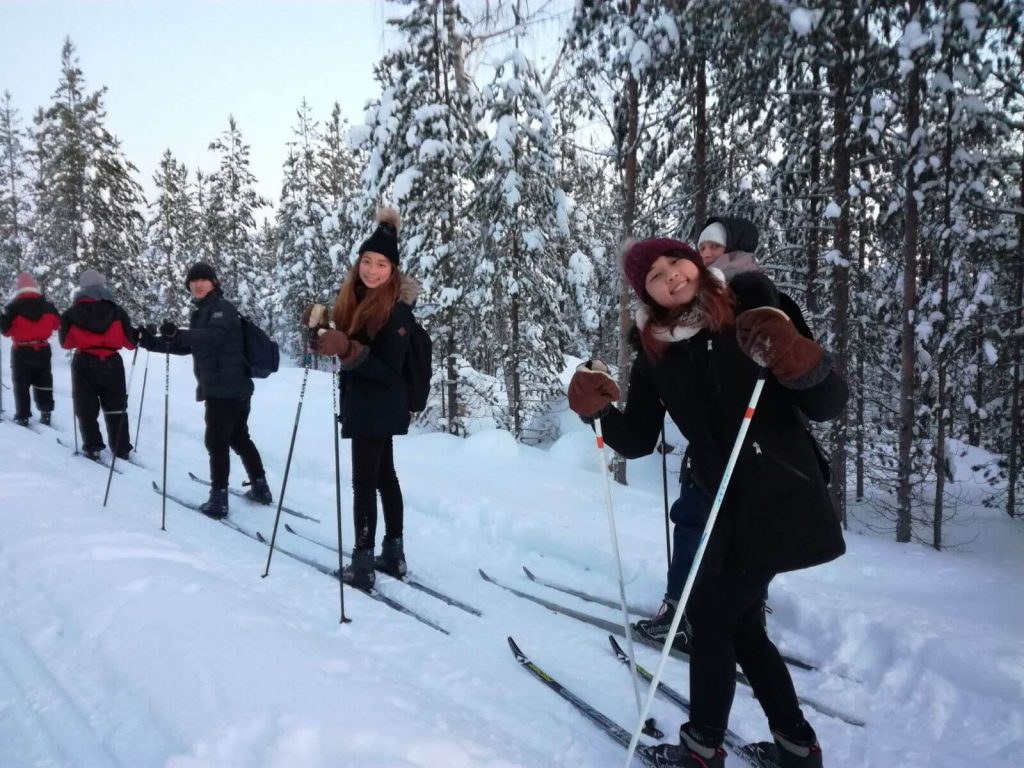 Duration 2-3h
Includes skis, boots, hot drink, and guide services
45 € / person
Minimum 2 people
WILDERNESS SKILLS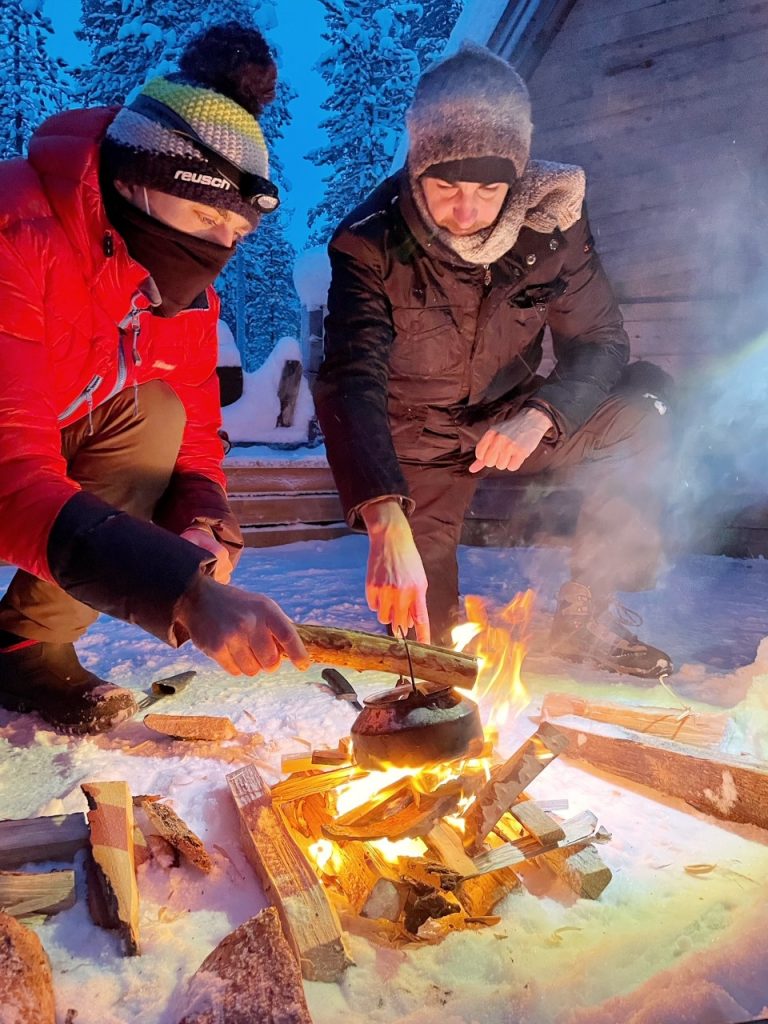 Duration 4-5h
Building a laavu, fire making, ice-fishing
Includes equipment, lunch by an open fire, guide services
89€ / person, minimum 4 people
Bookings in advance at least 1 week before
Places to visit:
Ask for more information and an offer!